DO NOT ship FEDEX * I will not ship FEDEX and FEDEX deliveries will be refused.
EMAIL * EMAIL * EMAIL IS THE FASTEST WAY TO REACH US
Norm's Rotor Service is the oldest and largest facility in the U.S. specializing in repairing antenna rotators.
Norm's Rotor Service is your source for ham radio antenna rotor sales, service and parts. Norm's sells and repairs over a dozen models of new or rebuilt ham radio antenna rotators and control boxes. Norm's also specializes in antenna rotator service, sales and parts for more than a dozen lighter-duty antenna rotators and control boxes suitable for CB radio antennas, TV antennas, HDTV antennas and FM radio antennas.
Norm's inventories over 25,000 parts for antenna rotors and antenna rotor control boxes primarily for the antenna rotators of Cornell-Dubilier, C.D.E., Telex, Hy-Gain and Alliance manufacturing companies.

Do not send any rotor or control without a return authorization from us...see our rotor repair link for information required.

Company Profile
Norm began repairing antenna rotors in the 1960's, and we are proud to have been in business for over 40 years.
Our technicians are licensed amateur radio operators who hold several computer hardware and software technical certifications as well. We are well equipped to diagnose and repair any mechanical or electronic problems with your antenna rotators or control boxes.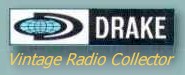 You are visitor
Questions? - Comments? Click on the link below to

E-mail Norm's Rotor Service...